This tour took place between July and September 2013 in Asia, Europe and the United States. It was part of the NIN 2013-2014 touring cycle. These were the first Nine Inch Nails shows since the Wave Goodbye Tour in 2009.
Line-Up
Changes
Though Eric Avery and Adrian Belew were originally slated to be part of the touring lineup[1], both dropped out during rehearsals. Avery felt overwhelmed by the idea of going on tour after just having finished a major tour with Garbage, and also wanted to focus on some studio work.[2] Belew stated simply that "it didn't work."[3] Robin Finck was brought back to replace Belew, and Josh Eustis's duties were then expanded to include bass.
Stage Set-Up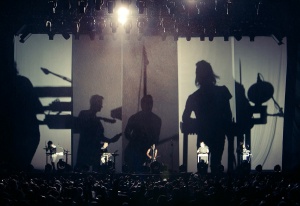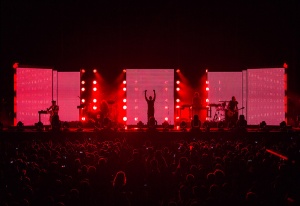 This leg utilized several mobile LED screens behind the band, which would supply lighting and also background footage during certain portions of the set. The production and lighting were again designed by Rob Sheridan, Roy Bennett and Moment Factory, who also worked on the 2008 Lights In The Sky Tour and the How To Destroy Angels Live 2013 tour. The production also made use of Kinect for interactive video manipulation. The band members arrived onstage at the beginning of the set one member at a time and their silhouettes were projected onto the background, which are references to Talking Heads' 1984 concert film, Stop Making Sense. [4] The silhouettes are also reminiscent of those at the beginning of shows on Depeche Mode's Devotional tour.
Typical Setlist
Variation
Setlists for the three non-festival dates were longer and also more varied since minimal production was used. Other songs played during these shows include (in order of commonality): "Somewhat Damaged," "The Beginning Of The End," "I'm Afraid Of Americans," "The Good Soldier," "Pinion," "Dead Souls," "La Mer," "The Day The World Went Away," and "The Line Begins To Blur."
Tour Dates
| Date/Location | Venue |
| --- | --- |
| 2013/07/26 Naeba, Japan | Fuji Rock Festival |
| 2013/07/28 Ansan, South Korea | Ansan Valley Festival |
| 2013/08/02 Chicago, IL | Lollapalooza |
| 2013/08/10 San Francisco, CA | Outside Lands Festival |
| 2013/08/15 Hasselt, Belgium | Pukkelpop Festival |
| 2013/08/16 Biddinghuizen, Netherlands | Lowlands Festival |
| 2013/08/18 Hockenheim, Germany | Rock'n'Heim Festival |
| 2013/08/20 London, England | Scala |
| 2013/08/21 Belfast, Northern Ireland | Belsonic Festival |
| 2013/08/23 West Yorkshire, England | Leeds Festival |
| 2013/08/24 Paris, France | Rock en Seine Festival |
| 2013/08/25 Reading, England | Reading Festival |
| 2013/08/28 Milan, Italy | Mediolanum Forum |
| 2013/08/29 Zurich, Switzerland | Zurich Openair Festival |
| 2013/09/01 Philadelphia, PA | Made In America Festival |
| 2013/09/03 West Hollywood, CA | Secret KROQ show at The Troubadour |
External Links