Versions:
Letting You
Letting You (Live At Rehearsals)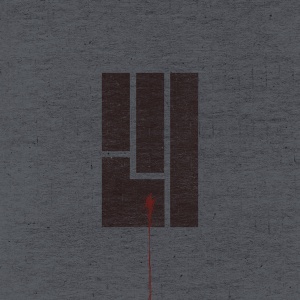 "Letting You" is the third track on the Nine Inch Nails album The Slip. A noisy and fast-paced song, it is somewhat similar to "You Know What You Are?" from With Teeth and "March Of The Pigs" from The Downward Spiral, but is also similar to "Hyperpower!" from Year Zero.
The artwork is a vertically oriented Art Is Resistance emblem that can also be seen as the letters L and Y, with a red line originating from where the star would be. The song can be interpreted as a protest song, similar to "The Hand That Feeds," from With Teeth. The artwork and subject matter of the lyrics may suggest a connection to Year Zero. The artwork for the sticker from the CD/DVD release is the same, but with the red line omitted.
Multitracks for this song (and all others from The Slip) were released in raw WAV format via remix.nin.com.
Appearances
Halos
Seeds
Versions
Letting You
This is the original album version. Fast-paced and featuring blistering guitar, the odd drum rhythm loops throughout the track, sometimes complicated further with extra bass drum hits. Bass enters in short bursts through the choruses. Vocals throughout the song are shouted rhythmically. Various ambient synthesizers fill the background throughout, layering through its instrumental coda along with a stabbing synthesizer that increases in volume until it overcomes the rest of the mix and cuts off suddenly.
Letting You (Live At Rehearsals)
This version of the song was released online via nin.com and PitchforkTV. It was filmed and recorded in the band's rehearsal space in mid 2008 and directed by Rob Sheridan. It also features on the physical release of The Slip, on an accompanying DVD of rehearsal footage.
Live
This song made its live debut on July 19, 2008 and was played very frequently on the Lights In The Sky Tour, with a few slight lyrical alterations. The third line is sung live as "One hand behind your heart", and the last line of the chorus is changed to "Get away, get away" instead of "Get away with it."
On the Wave Goodbye Tour, "Letting You" was played on the Australian dates, but only rarely afterwards. One performance, from Brisbane on February 21, was filmed by Rob Sheridan and posted on the official NIN YouTube channel. [1]
"Letting You" was not performed in 2013, but was regularly played on the NIN + QOTSA Tour and continued to appear for the rest of the 2014 shows. On the Cold And Black And Infinite Tour, "Letting You" was played at about one-third of the shows.
Lyrics
   The sky is painted black
   The smoke pours out the stack
   One hand upon your heart
   One hand behind your back
   You train us how to act
   You keep the fear intact
   The imminent attack
   Everything is right on track
   
   And we are letting you get away
   We are letting you get away with it
   
   Upon our plates to feed
   The dying left to bleed 
   How much we really need
   Your politics of greed
   The cancer takes ahold
   The wolf is in the fold
   Our destiny's been sold
   We do just what we're told
   
   And we are letting you get away
   We are letting you get away with it
   
   Your armies filled with hate
   Believing your charade
   Begin to suffocate
   For us it's far too late
   
   And we are letting you get away
   We are letting you get away with it
   

External Links