Portrait of an American Family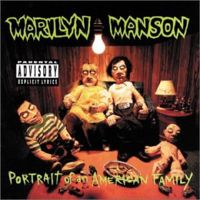 Portrait of an American Family is Marilyn Manson's debut album, released on July 19, 1994 through Trent Reznor's Nothing label. Reznor also co-produced the album, as he did on their second album, Antichrist Superstar.
The original producer of the album was Roli Mosimann. However, after the recording process, the band felt his style of production was not what they were looking for and Reznor took over the role as producer. Mosimann is instead credited as the engineer.
Track listing
Prelude (The Family Trip) – 1:20
Cake and Sodomy – 3:46
Lunchbox – 4:32
Organ Grinder – 4:22
Cyclops – 3:32
Dope Hat – 4:21
Get Your Gunn – 3:18
Filth - 2:46
Wrapped In Plastic – 5:35
Dogma – 3:22
Sweet Tooth – 5:03
Snake Eyes And Sissies – 4:07
My Monkey – 4:31
Misery Machine - 13:11
Personnel
Daisy Berkowitz: guitars
Twiggy Ramirez: live bass
Madonna Wayne Gacy: calliope, Hammond organ, saxophone, theremin, brass, overdubs, loops
Sara Lee Lucas: drums, sound effects
Marilyn Manson: vocals, producer, brass, loops, artwork
Gidget Gein: bass
Trent Reznor: producer, executive producer, digital editing, programming, mixing, brass, guitar
Chris Vrenna: percussion, programming, assistant engineer
Hope Nichols: saxophone, vocals
Charlie Clouser: drums, drum programming, editing
Robert Pierce: speaking
Sean Beavan: assistant producer, programming, digital editing, mixing
Alan Moulder: assistant producer, engineer, mixing
Roli Mosimann: engineer
Brian Pollack: assistant engineer
Mark Gruber: assistant engineer
Barry Goldberg: assistant engineer
Brian Scheuble: assistant engineer
Marc Freegard: mixing
Tom Baker: mastering
Wade Wright: mood lighting
Chris Meyer: live sound
Albert Sgambati: tattoos
Donovan Stringer: tattoos
Robin Perine: photography
Jeffrey Weiss: photography
Gary Talpas: packaging
Frank Callari: management
John Tovar: management
Sioux Z.: publicity
Robin Finck: synthesis, keyboards (uncredited on album, however Manson has confirmed his involvement)
Credits
MARILYN MANSON: "PORTRAIT OF AN AMERICAN FAMILY"
Starring:
DAISY BERKOWITZ: PSYCHOACOUSTICAL GUITARS
TWIGGY RAMIREZ: BASE TENDENCIES
MADONNA WAYNE GACY: HAMMOND ORGAN, THEREMIN, SAXOPHONE, CALLIOPENIS, BRASS, BABIES, DISTORTED MUZETTE, LOOPS
SARA LEE LUCAS: HITTING
AND MR. MANSON: ACCUSATIONS, CHILD MANIPULATIONS, BACKWARDS MASKING, POLAROIDS

PRELUDE (THE FAMILY TRIP) adapted by manson / boat ride: manson, gacy

CAKE AND SODOMY (lyrics: manson / music: berkowitz)

LUNCHBOX (lyrics: manson / music: berkowitz, gein) bionic guitar: reznor. Contains elements from "Fire" (Crane/Finesilver/Brown). Onward Music, Ltd. (PRS). Performed by Arthur Brown. Used under license from PolyGram Special Markets, a division of PolyGram Distribution Group, Inc.

ORGAN GRINDER (lyrics: manson / music: gein, berkowitz)

CYCLOPS (lyrics: manson / music: berkowitz, gein, gacy)

DOPE HAT (lyrics: manson / music: manson, berkowitz, gacy) additional percussion: Chris Vrenna, additional loops: Manson. Contains excerpts of dialogue from "Liddsville". Used under license from The Sid & Marty Krofft Picture Corp.

GET YOUR GUNN (lyrics: manson / music: berkowitz, gein) uncontrolled saxophone: Hope Nichols

WRAPPED IN PLASTIC (lyrics: manson / music: berkowitz) knives: Manson, additional voodoo drums Charlie Clouser, violation: Melissa (age 19)

DOGMA (lyrics: manson / music: berkowitz) background vocals and citronella: Hope Nichols

SWEET TOOTH (lyrics: manson / music: gacy, gein) scab loop: Manson

SNAKE EYES AND SISSIES (lyrics: manson / music: gacy, berkowitz, gein) skull: Podboy, "Maria": Gacy

MY MONKEY (lyrics: manson / music: berkowitz) boy: Robert Pierce (age 6), the pitiful pot pie brass section: Gacy, Reznor, Beavan.

MISERY MACHINE (lyrics: manson / music: gein, berkowitz, gacy). Contains elements from "Beep, Beep" (Claps/Cicchetti). Longtitude Music Co. (BMI). Used by permission. All rights reserved. Performed by The Playmates.
Used under license from Warner Special Products/EMI Records (UK). EPILOGUE: Contains excerpts of dialogue by Mink Stole from the film "Desperate Living". Used under license from New Line Cinema. All bass played on this recording by Gidget Gein (AKA Brad Stewart).
Executive Producer: Trent Reznor.
Produced by Mr. Manson and Trent Reznor. Assisted by Alan Moulder and Sean Beavan.
Recorded at The Record Plant (Los Angeles), The Village Recorder (Los Angeles), Pig (Beverly Hills) and Criteria (Miami).
Engineered by Alan Moulder and Roli Mosimann. Assisted by Brian Pollack, Marc Gruber, Chris Vrenna, Barry Goldberg and Brian Scheuble.
Mixed at The Village Recorder and Pig by Trent Reznor, Alan Moulder, Sean Beavan and Marc Freegard.

Digital Editing and Programming: Charlie Clouser, Trent Reznor and Sean Beavan
Mastered by Tom Baker at Future Disc, Los Angeles
Mood Lighting: Wade Wright Live Sound: Chris Meyer Tattoos: Albert Sgambati, Donovan

Doll family, logo, artwork and album design created by Mr. Manson
Photography: Robin Perine
"American Family" cover and "Floating Dolls" Photographs: Jeffrey Weiss Package: Gary Talpas

Managed by Frank Callari/John Tovar c/o TCO Group, Inc. P.O. Box 23329, Nashville, TN
Publicity by Sioux Z. at Formula

Merchandise can be obtained through Satan's Bakesale
To join the Marilyn Manson Family write to: 2901 Clint Moore Rd., Suite #404, Boca Raton, FL. 33496 or call the Marilyn Manson Family Intervention Hotline anytime at (407-997-9437)
MARILYN MANSON WOULD LIKE TO THANK THE FOLLOWING: MELISSA ROMERO, BARB AND HUGH, PAUL JENKINS, DEIDRE, EVERYONE AT COPYRIGHT, GLENN RICHARDS, PODBOY, T.A.G.R, JOHN A. MALM JR., SUSIE TALLMAN, GERRY GERRARD, SAM, JASON MORGAN, WKPX, GEN AND THE GENITORTURERS, DUKE OF DAVIE, FRANKIE, ARLEEN, KAY WRIGHT, JESSICKA AND JACK OFF JILL, JEREMY STASKA, LEE, SCABTREE, BLANCHE BARTON, ANTON LAVEY, BOYD RICE, JOHN WATERS, SUSAN WELLS, JACK KEARNEY AND MICHAEL, WILLIE, FRANK, LISA, KEVIN AND EVERYONE ELSE AT SQUEEZE, CARRIE DUNN, CHRISTOFAIRY, TOM MORRIS, CHARLIE LOGAN, MORGAN, MIA JOHNSON, LLOYD, KEVIN MACIVOR, RODNEY, AND SID OF BAD DOG VIDEO, DOG EAT DOG, BILL HOWARD, LORI WERDER, HOPE AND SUGARSMACK, JOHN "MARIA" SCAZZA, FLASHBACKS, LEW, TIM GALLAGHER, SHAWN, A.J., STEVE-O, DAN, MARNIE SMITH, CHARLZ WIEBER, CHAD McCABE, MARC GRUBER, STREITHORST FAMILY, DENONCOUR FAMILY, PIERCE FAMILY, META POWLES, DAVID "SPARKY" BANNETT, T.J. LOCASTRO, ALLEN L. MITCHELL, TIM O'NEAL OF RESURRECTION DRUMS, STEVE AND HELEN BIER, BILL AND LEE BIER, CHARLENE YIP, ANGEL ARAZHY, JULIE BLANDFORD, GJ DOUG, SCOTT VAN AMSTERDAM, PDRAIC OGLE, BRAD WILSON, MIKE FELS, DAVE FRAUMAN, HOLLY POWELL, RYAN AT BOX OF SNAKES, KURT MOODY, MARK, JOHN RAYMOND, CINDY, TEPPER, PAULA, LAURA TAYLOR, NORMA K., JOHN TOVAR, TERRI SMITH AND ALL OTHERS WHO HAVE HELPED OR WE HAVE EXPLOITED ALONG THE WAY.
YOU SPOONFED US SATURDAY MORNING MOUTHFULS OF MAGGOTS AND LIES DISGUISED IN YOUR SUGARY BREAKFAST CEREALS. THE PLATES YOU MADE US CLEAN WERE FILLED WITH YOUR FEARS. THESE THINGS HAVE HARDENED IN OUR SOFT PINK BELLIES. WE ARE WHAT YOU HAVE MADE US. WE HAVE GROWN UP WATCHING YOUR TELEVISION. WE ARE A SYMPTOM OF YOUR CHRISTIAN AMERICA, THE BIGGEST SATAN OF ALL. THIS IS YOUR WORLD IN WHICH WE GROW. AND WE WILL GROW TO HATE YOU.

© 1994 NOTHING/INTERSCOPE RECORDS. ALL RIGHTS RESERVED.
© 1994 BEAT UP YOUR MOM MUSIC/EMERALD FOREST MUSIC PUBLISHING. LYRICS USED BY PERMISSION.
External Link