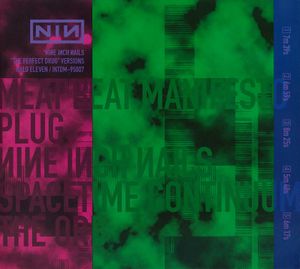 The Perfect Drug (also known as "The Perfect Drug" Versions, Halo 11), released on May 13, 1997, contains remixes of the title Nine Inch Nails track, which was recorded for the Lost Highway Soundtrack.
Track Listing
"The Perfect Drug" (Meat Beat Manifesto) - 7:25
"The Perfect Drug" (Plug) - 6:53
"The Perfect Drug" (Nine Inch Nails) - 8:19
"The Perfect Drug" (Spacetime Continuum) - 5:42
"The Perfect Drug" (The Orb) - 6:11
The original version of the song (from Lost Highway) is included as track 6 on the AU, EU and South African versions of this release. No version of this Halo was issued on cassette.
A sixth remix, by Aphrodite, is available only on the triple 12" DJ promo release, to date the only vinyl release of this Halo. The track as released in 1997 was mastered at a slower speed. An MP3 of this version was uploaded to the Rare & Unreleased playlist on remix.nin.com. The original, unaltered track was eventually uploaded to Soundcloud by DJ Aphrodite, who stated: "This is the original speed the remix was made at. For the vinyl, Nothing Records slowed it down to around 160bpm, perhaps to lower the vocals, and at the time the general music loving public were still not used to the speed and energy of Jungle/D&B."
Artwork
The cover art for the 2 track promo release contains a series of numbers that correspond to letters of the alphabet and when decoded, they make the lyric phrase "without you everything falls apart".
The typeface used is DINEngschrift in all caps (the same typeface was used in lowercase on The Downward Spiral and Hesitation Marks.)
Credits
Written and performed by Nine Inch Nails

Remix and additional production by Jack Dangers; Engineered by Josh T. Roberts at Toast Studios, S.F.
Remix and additional production by Luke Vibert
Remixed by Trent Reznor and Keith Hillebrandt; Engineered by Brian Pollack at Nothing Studios, New Orleans
Recreated by Jonah Sharp
Remixed by The Orb; Engineered by Andy Hughes

External Links
Discography