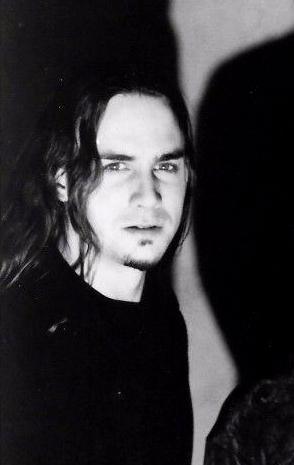 Instruments:
Keyboards, Backing Vocals
James J. Woolley (September 26, 1966 – August 15, 2016) was the touring keyboardist for Nine Inch Nails during the later Pretty Hate Machine tours (most notably Lollapalooza 1991), and toured with them through roughly half of the Self Destruct tour, including their Woodstock performance, before being replaced by Charlie Clouser in December 1994.
In late 1989, Woolley joined the band Die Warzau, mainly on keyboards. Known for their elastic styles of meshing jazz, funk, and rock with industrial, Die Warzau was a staple of the Chicago scene. He toured with them in support of their debut album Disco Rigido. The singles "Land of the Free" and "Strike to the Body" contained remixes that involved all members of the band; thus, Woolley was a part of these remixing sessions. He also contributed to the "Bodybag/Shakedown" single, this time being specifically mentioned.
After touring and recording for their debut album, Die Warzau started on their second album, Big Electric Metal Bass Face. Woolley was involved with the majority of the songs, contributing keyboard, percussion, and vocals. More importantly, however, was the closing track, named "Head." On this track, Woolley is credited as the sole songwriter. Meshing a classical lead piano with ambient programming, it showed a softer yet more complex James Woolley. After an appearance on the Jesus Killer EP, Woolley joined NIN, once again behind a set of keyboards. He joined at a time where NIN moved into a more heavy and aggressive sound. He was involved in the famous 1991 Lollapalooza Tour, in which a performance of "Now I'm Nothing/Terrible Lie" has become an iconic moment. The band also opened for Guns N' Roses on a short European tour where NIN did not get a warm reception.
Afterwards, NIN started work on their second studio effort, Broken. Although not featured on Broken itself, Woolley, Richard Patrick, and the late Jeff Ward were credited as inspiration. He was later featured on national television on the show Request Video, along with Trent Reznor and returning drummer Chris Vrenna. During this time, Woolley was also featured in the music video for "Wish." This performance earned him a Grammy. He was later featured in the video for "March Of The Pigs", the first single off of NIN's next album The Downward Spiral. This performance was actually done in one take, live in front of a white screen. This unique performance captured the essence of 1994 NIN, and was included in audio format on certain editions of the Closer to God single.
Woolley was once again tapped to play live keyboards for NIN, this time on the 1994 Self Destruct Tour. It was during this time that NIN was a headliner for Woodstock '94, which brought Woolley his highest exposure. Despite numerous technical issues and Reznor's antics, Woolley kept his composure and still delivered a solid performance. An immediate interview after the set showed their optimism and exhaustion. Although no contributions from Woolley made it onto The Downward Spiral, he was instead focused on helping Chris Randall create the second Sister Machine Gun album, The Torture Technique. This album was a departure from the synthpop and electronica debut effort, featuring heavier programming, keyboards, crunched guitars, and numerous segues, all with the assistance of Woolley. Also on the album were other sometime members of Die Warzau (Randall, Jim Marcus, Levi Levi, and Van Christie.)
Woolley and NIN parted ways after the main leg of the Self Destruct Tour, due to Woolley wanting to spend more time with his family. He did appear heavily in the tour documentary Closure. Woolley then became the touring keyboardist for Rob Halford's band 2wo, who were signed to Trent Reznor's Nothing Records label. It's highly possible that Reznor suggested his former bandmate to fill in. Woolley then took a hiatus from the music industry, most notably working on the popular TV show The Simpsons, doing sound design. When he did return, it was on the Die Warzau album Convenience; however, numerous people were credited as performers, and so his contributions are unknown.
V.O.I.D. was the last band Woolley was involved in. Their debut album was due for a 2009 release, but got pushed back numerous times. The track "Get in Line" is a good indication of what was to come of the band, but sadly the project never got finished. Woolley passed away on August 15, 2016, from injuries he sustained after falling from a ladder.