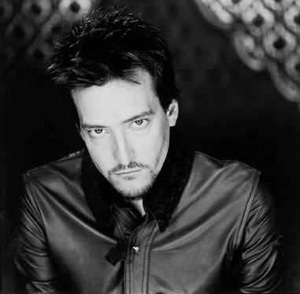 Instruments:
Guitar, Backing Vocals
Richard Patrick (born May 10, 1968) is a former guitarist for Nine Inch Nails and leader of the band Filter. He has played the guitar since the age of nine and names The Cure, U2, and Stone Temple Pilots as primary musical influences, specifically the inventive use of technology and flood sounds used by those artists. His actor brother, Robert Patrick, was often seen wearing NIN shirts and pins while Richard was a member, as evidenced by his headshots from the time. This can also be seen on the behind-the-scenes footage for Terminator 2: Judgment Day.
According to the biography on the official Filter website, Patrick was nicknamed "Piggy" during his time with Nine Inch Nails. According to Brian Liesegang, Trent Reznor was very upset when Patrick left the band and wrote the song "Piggy" about it shortly thereafter.[1] The Filter track "Captain Bligh" was originally rumored to be about Reznor, though Patrick has since debunked this.[2] Though their relationship was semi-acrimonious in the past, Reznor and Patrick are on good terms.[3]
Career
Patrick spent two and a half years as the touring guitarist in NIN and can be seen in the music videos for "Down In It," "Head Like A Hole," "Wish," and "Gave Up." His only recorded contribution—a droning guitar sound—can be heard at the end of "Sanctified" on Pretty Hate Machine. He chose to leave the band during the recording of The Downward Spiral in 1993 due in part to Reznor not allowing him any creative input or musical contributions, as well as often taking a lot of onstage physical abuse from Reznor.
In a 1994 interview with Alternative Press[4], Reznor spoke about Patrick's exit from the band:
Rich was working on a lot of his own stuff right at the time I was doing Broken. I encouraged him to do that, and I asked him if he wanted an objective opinion good or bad, let me know. He felt that he had to express himself, understandably, and I encouraged him. During the course of separation I think he'd been around a lot of people with ulterior motives, including the guys that were playing with him. What's in it for them if Rich goes out on the road with me for a year? I noticed a great sense of animosity and competition.

At that same time, I was reaching out to my band for input. I called up Rich and he was working on his project but he was like, "Okay, I'll come out." He had been out here for a month and had never asked to hear a demo of the songs! I'm hurt, and I'm kind of insulted. Okay, everybody wanted to be part of this project and my goal is to make it more of a band thing. But I'm not going to beg for someone to help me. Then find out he has a manager and he's shopping for a deal. When confronted and his bluff was called, he admitted to it. We're friends, man, I wouldn't have minded if you just told me, I'm trying to do what you wanted to do but there's more to being in the band than, here's your itinerary, here's your check, be on the bus next week.

I have no problems with him. He's a great performer, he looks good onstage, and he worked well. Musically, it's not hard to replace him. But as a personality who brewed in the stew of four guys on the bus, he was my best friend. Somehow in the course of last year, he's gone from being my best friend to somebody who hates my guts because somehow I stopped him from realizing his potential as a singer/songwriter when all I've done is give him a salary to live off of for the last few years, and encouraged him to do it. I wish him all the best, but all I want to know is, "Why did you do it that way?"
Patrick went on to form his own industrial rock band, Filter, with fellow NIN collaborator Brian Liesegang, though Liesegang left in 1997. Patrick made a live guest appearance with NIN in 1996 for one date of the Nights Of Nothing Tour. He was later considered by Trent Reznor to contribute to the Tapeworm project.[5] In 2005 Patrick also formed the band Army of Anyone with the DeLeo brothers of Stone Temple Pilots and in late 2006 the band released their eponymous album. The band split a year later and Patrick returned to Filter, who continued releasing albums. Brian Liesegang rejoined Filter in 2018 and, utilizing PledgeMusic, the pair began working on a musical sequel to Short Bus entitled reBus. This was shelved in the wake of the PledgeMusic scandal and Patrick stated that he was working on another new Filter album, which is expected to contain three tracks from the aborted reBus sessions.
Body Of Work
Nine Inch Nails
Pretty Hate Machine (Droning guitar, "Sanctified"; 1989)
Filter
Short Bus (1995)
Title Of Record (1999)
The Amalgamut (2002)
Anthems for the Damned (2008)
The Trouble with Angels (2010)
The Sun Comes Out Tonight (2013)
Crazy Eyes (2016)
They've Got Us Right Where They Want Us, At Each Other's Throats (TBA)
Army Of Anyone
External Links