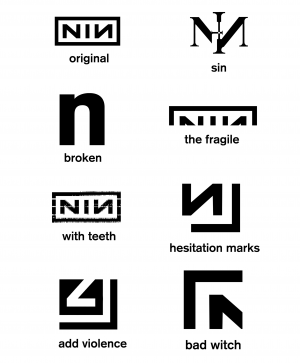 Nine Inch Nails has had many logos throughout its history, and while the original logo is still considered the band's "main" logo, this is a list of all logos that have been used over the years.
On the visual strength of the standard logo, an article from The Fader magazine[1] stated:
"The NIN logomark, which was created by Reznor and graphic designer Gary Talpas, first appeared in the "Down In It" video and has been used, largely unaltered, since 1989. It is practically flawless. It utilizes uniform line weights, mathematic spacing, bold letterforms. "NIN" is a true acronym, as opposed to an initialism. Its abbreviation is an alternate spelling of the first word it represents. The mark is symmetrical. It is graphic. It is containerized. It is legible. It is easily recreated from memory. It reproduces well at all sizes. And the list goes on."
Original
Designed by Gary Talpas, based on Trent Reznor's concept.
On Tour
A stencil variant used to mark touring cabinets and equipment.
There were a couple of variants of the original, sometimes used on promotional materials during this time, where the logo has a fractured look.
Designed by The Designers Republic, used on the Sin single.
Designed by Talpas, used on both Broken and Fixed.
Unused NIN logo art created by Russell Mills for The Downward Spiral, 1994.
Pinwheel logo from the Dissonance Tour.
Original logo partly hidden on The Fragile cover art.
Designed by Rob Sheridan, based on the Talpas original.
Many tour posters had variations on the Sheridan theme, glitch manipulation of the Talpas logo. A full gallery is accessible at Category:Tour Lithos.
Notable logo from the Year Zero ARG.
Designed by Sheridan, used only on the album booklet.
Designed by Sheridan, used on a tour poster.
Used on a tour poster.