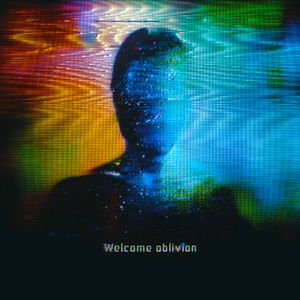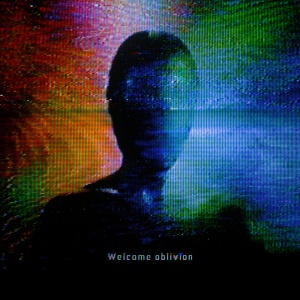 Welcome Oblivion is an album release by How To Destroy Angels. It is the band's first full-length release and their third release in all. It was released by Columbia Records on March 5th, 2013. It is labeled as Sigil 4. The vinyl release of the album comes with two bonus tracks. When downloaded from HTDA's official store, the tracks each come with their own artwork, a variation of the head from the album's art.
Rob Sheridan describes the album's concept as "anxiety of information overload as humanity and technology converge and presenting technological singularity and post-humanism as both a terrifying and transformative moment for mankind and nature."
Tracklisting
CD
Tracks 2, 5, 6 and 12 previously appeared on An Omen EP.
Vinyl
A1 "The Wake-Up" - 1:43
A2 "Keep It Together" - 4:27
A3 "And The Sky Began To Scream" - 3:57
A4 "Ice Age" - 6:52
B1 "Welcome Oblivion" - 3:47
B2 "On The Wing" - 4:52
B3 "Too Late, All Gone" - 6:15
B4 "The Province Of Fear" - 4:13
C1 "How Long?" - 3:54
C2 "Strings And Attractors" - 4:28
C3 "Recursive Self-Improvement" - 6:28
C4 "Unintended Consequences" - 5:18
D1 "We Fade Away" - 6:41
D2 "The Loop Closes" - 4:50
D3 "Hallowed Ground" - 7:17
There are two unique tracks on the vinyl format: "The Province Of Fear" and "Unintended Consequences". The vinyl release also includes a CD within the sleeve, containing the vinyl sequencing of the album.
Digital
Whilst the digital version of the album is officially listed as the same as the CD version, some download sites have listed it with the band's first EP included as "bonus tracks".
Release
An Omen EP, released November 2012, served as a precursor to the album, with four of its six tracks featuring on Welcome Oblivion, three of which had a music video.
The album was announced alongside the video release for "The Loop Closes," one of four tracks to be featured on both this album and An Omen EP. The first single to be released from the album (that was not already on An Omen EP) was "How Long?" on January 31st, accompanied by its music video and an announcement of the tracklisting and the vinyl's album art.
On February 19th, HTDA made "And The Sky Began To Scream" available for free via text service Maebe, the first song to be released on the service. The full CD/Digital version of the album was made available to stream in its entirety for free via Pitchfork on February 20th, and on the same day the band released pre-orders through their own website, and some new t-shirt designs linked to the album's artwork.
The Bug was originally to appear on the album, providing a musical hook for one of the tracks (which one is unknown). However, as Mariqueen Maandig "couldn't get happy with her voice on it"[sic], the hook was ultimately scrapped. The Bug has stated he'll use it in his own music in the future.[1]
Like the band's first EP, the CD and vinyl versions of the album have different artwork. Due to a printing issue, the vinyl edition of the album was delayed until the 19th of March.
Credits
Written, arranged, programmed, performed,
produced and packaged by How to destroy angels_
Mariqueen Maandig
Trent Reznor
Atticus Ross
Rob Sheridan
Mixed by Alan Moulder
Mastered by Tom Baker at precision mastering, Hollywood, CA
Recorded by Blumpy with additional engineering by Dustin Mosley and Jun Murakawa
"We Fade Away" co-written/performed with Alessandro Cortini
Management: Rebel Waltz
Booking: Marc Geiger @ WME
Publicity: Heathcliff Beru @ Life or Death PR
Business management: William Harper and Michael Walsh for Gelfand, Rennert & Feldman
Legal: Gary Stiffelman and David Byrnes
Published by Cloudcover, Inc. (ASCAP), M'aidez (ASCAP), Songs in the key of mink, and modwheelmusic, inc. (ASCAP) for "We Fade Away" administered by Songs of Universal, Inc. (BMI)
Thank you:
Mark Williams, Scott Greer, Erika Alfredson, Rob Stringer, Ashley Newton, Bryan younce and the rest of the Columbia team, Christina Lum, Selene Yen, Irina Volodarsky, Karen Ciccone, Ross Rosen, Claudia Sarne, Tamar Levine, Tara Dowburd-Luftman, Iowa Wong, David A. Sitek, Factory Floor, The Soft Moon, Deadmau5, Claudia Lagan, Angela Sidlow, John Hillcoat, Jonathan Pavesi, everyone at Skunk, Elise Velasco, Johnny Stuntz, Andreas and everyone at NI, Olaf and everyone at Ableton, Mitch and everyone at Soundtoys, everyone at Shynola, Matt Mahurin, Elena Dickstein and preferred travel, Rockit Cargo, Nicki Goldstein and Midway
Art direction
The art of the album was conceived by the entire HTDA group, and was primarily executed by Rob Sheridan. He used a technique of creating art, placing the image onto VHS tapes and then photographing distortion through a CRT monitor as shown here.
In a Reddit AMA, Sheridan gave the following explanation of the ideas that went into the artwork:
The visual direction of this album came about first from the concept of the record. Trying to express the anxiety of information overload, the end of mankind as both terrifying and transformative, apocalypse and evolution, etc. I was inspired by the way Trent and Atticus set up rules for themselves around the way they record music for each project, and the analog methods they were experimenting with for this record that tied into its themes. So I started looking for a visual analogy for that, and also a visual analogy for information overloading the pipeline it's being sent through - of signals unable to display coherently. It led me down the road of experimenting with analog cables and old CRT monitors and VHS decks. The result was a set of rules I came up with for creating the visuals. As much of a pain in the ass the process is sometimes, it's strangely freeing to work within constraints. Not only does it force a rigid visual consistency, it takes Photoshop out of the equation entirely (the CRT texture makes the images largely uneditable in post, besides color corrections). Sometimes there's something extremely daunting about a blank document in Photoshop, because you can go absolutely ANYWHERE with it. Setting up some limitations has proved really useful.[2]
Touring
For more information, see How To Destroy Angels Live 2013
HTDA's first live shows were played in the spring of 2013 as a short North American tour to promote Welcome Oblivion. The shows featured innovative production using light curtains made of LED-filled tubing, with dazzling visuals controlled from the stage by Rob Sheridan.
External Links
How To Destroy Angels Discography
Previous release - "An Omen EP"
Sigil number: 4
Next release - "N/A"