"Help Me I Am In Hell" is the fourth track on 1992's Broken EP. The song title is most likely inspired by a scene in Hellbound: Hellraiser 2.
Song Credits
Appearances
Halos
Seeds
Other
Versions
Help Me I Am In Hell
This is the original album version. Minimalist in nature, it features a simplistic and repetitive guitar riff and bassline building up with a backing thunder loop, which leads into "Happiness In Slavery." It also samples ambient noises from The Empire Strikes Back.
Help Me I Am In Hell (Beside You In Time)
Included on Beside You In Time as bonus footage from the Summer Amphitheater Tour, this guitar-and-drum-heavy version is performed with the LED cage dropped down in front of the stage. The lights on the cage and the screens behind the stage give the impression of wax bubbles in a lava lamp. It eventually leads into "Non-Entity."
Music Video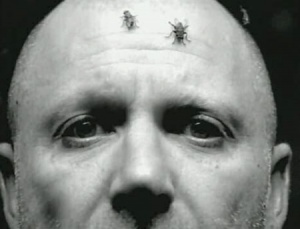 "Help Me I Am In Hell" was directed by Eric Goode and Serge Becker, who also directed "Pinion." The black-and-white music video features a man eating a steak and drinking red wine while surrounded by thousands of flies. The man seems oblivious to the flies as they drown in his wine, eat his steak, and swarm around him, crawling close to his eyes and into his mouth. As the song builds, the man has visions of himself in sadomasochistic regalia, wearing a horse's bridle and blinders. As the song begins to decrescendo, the camera zooms out as the man continues with his meal.
Credits
Director: Eric Goode & Serge Becker
Producer: Adam Stern
Cameraman: Russell Swanson
Editor: Ted Tucker
Live
This song is typically featured as an instrumental lead-in, often including wind sounds and a drum rhythm. On the Self Destruct Tour, it led into "Happiness In Slavery" to form the end of the encore. It has also been used before "Non-Entity" and "Eraser." When the song returned to the live show in 2018, Ilan Rubin played cello instead of drums.
External Links