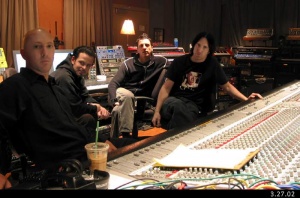 Tapeworm is a defunct side project of Nine Inch Nails which existed, featuring various contributors, since the mid-1990s. No recordings were ever released, but the group was frequently referenced in interviews. After many years of rumors, Trent Reznor announced the end of the project in 2004.
History
After the Self Destruct tours ended in 1996, Danny Lohner and Charlie Clouser approached Reznor with music ideas that he felt did not fit in with his vision of the band, but instead agreed to collaborate and work on the material as a side project, with each member having equal say in decisions. The band eventually became a supergroup of sorts including, among others, Maynard James Keenan (Tool, A Perfect Circle), Page Hamilton (Helmet), and Phil Anselmo (Pantera).
By 2001, producer Alan Moulder had tracked "more than an album's worth" of demos, according to Reznor's post on the site, adding that the rough songs are "very unlike The Fragile, and may not even be released as NIN material". However after 2002, Clouser left NIN and was no longer a part of Tapeworm. The group (at the time consisting of Reznor, Lohner, Keenan and Atticus Ross) booked time in a recording studio in an attempt to produce an album. An official Tapeworm website (Tapeworm.net, now offline) was created and showed pictures from various recording sessions.
In September 2003, Lohner told Kerrang! magazine that the album was "ready to mix" but had been held up by legal issues stemming from conflicts between Reznor and Keenan's record labels. [1]
Over time, the band began to break down, partly due to label issues and partly due to Reznor's lack of interest in the project and it was announced that the band was dead in 2004.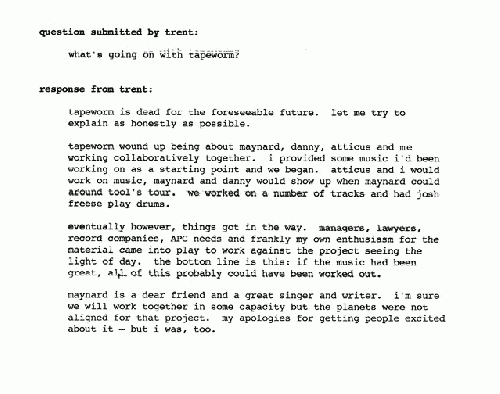 In July 2013, Phil Anselmo added more information regarding the project in an interview with Rolling Stone. He explained that he featured on two songs, the previously unmentioned "Ignorant" and "Be Kind To Them".
Out of all the projects you've done over the years, the most mysterious was Tapeworm, which supposedly included Trent Reznor and Maynard James Keenan, but was shelved.


Actually, it was really me and Danny Lohner, who was in Nine Inch Nails at the time we did Tapeworm. Danny Lohner and I are still very tight, and we always talk about doing different projects together. I think he's gearing up to lay a bunch of material on me in the near future. But with the Tapeworm, it was really just two songs. Danny had preprogrammed and did all of his magic that he does – which is really outstanding work – beforehand, and said, "Hey man, here's the music. Write what you want." And these songs never saw the light of day. It was one of those things where schedules never met and it wasn't a true possibility. We were both tied to different record labels at the time. It was just a logistics nightmare.

Either way, it was and is very interesting music. I think there was one aggressive-type song, called "Ignorant." I'm not sure if I want people to hear it today or tomorrow, but in the next ten years or so, I don't mind if it's heard. There was another song called "Be Kind to Them," and that song was more atmospheric, more of a blues-type track. It would be Nine Inch Nails' take on blues. It's the type of thing where Danny – who is also a great producer – he'll ask you to sing something 20 different ways, 20 different times. Then he'll take it and run with it, and build what he wants out of it. Take certain textures and add them to vocals, and then the really beautiful orchestrations in the background.
Contributors
Musicians cited to have recorded material for Tapeworm:
Phil Anselmo (Pantera / Down / Superjoint Ritual)
Charlie Clouser (Nine Inch Nails)
Josh Freese (A Perfect Circle / The Vandals / Nine Inch Nails / Guns N' Roses / Black Light Burns)
Toni Halliday (Curve)
Page Hamilton (Helmet)
Maynard James Keenan (Tool / A Perfect Circle / Puscifer)
Danny Lohner (Nine Inch Nails / A Perfect Circle / Black Light Burns)
Alan Moulder (producer, Nine Inch Nails / Smashing Pumpkins)
Trent Reznor (Nine Inch Nails)
Tommy Victor (Prong / Danzig)
Additional musicians/vocalists who were considered for Tapeworm:[2][3][4]
Dave Gahan (Depeche Mode)
Dr. Dre (N.W.A. / solo)
Everlast (House of Pain / solo)
Jaz Coleman (Killing Joke)
Geordie Walker (Killing Joke)
Zack de la Rocha (Rage Against The Machine)
Richard Butler (Psychedelic Furs)
Marilyn Manson (Marilyn Manson)
Richard Patrick (Nine Inch Nails, Filter)
Relationship to Puscifer and A Perfect Circle
No Tapeworm song was ever released to the public, but "Vacant", which was performed live by A Perfect Circle on several occasions and eventually became "Passive" on their last full length release eMOTIVE, was a song originally by the band. APC's live performance of the track before its release has also been attributed to the demise of Tapeworm. Danny Lohner has stated that he used Tapeworm material as Renholder when he did the soundtrack to the motion picture Underworld.
In November 2009, Puscifer released "C" Is for (Please Insert Sophomoric Genitalia Reference HERE), which contained "Potions", with writing credits to Reznor. Keenan explained that it was a Tapeworm song, recorded by Puscifer as a "wedding gift" to Reznor.
Some people believed that Trent was on the track, or that it was actually the original Tapeworm piece, but Keenan stated the following:
Ok. Let's use an APC album as an example. eMOTIVe. APC did a song called "Imagine." If you view the credits for the song you'll find various bits of info. Generally speaking the writers name appears in parenthesis next to the track. The performer info may or may not be listed in the album credits. If you see performer info it may be broken down to instruments. For example... "Billy Howerdel - Guitars and Back-up Vocals. Josh Freese - Drums and percussion, etc... Or it may be a given that the people who performed on this project/album/track are the band in question. So it will just say "B Howerdel - guitars, Josh Freese - drums, M J Keenan - vocals, etc... But Writing credits are different. Next to "Imagine" you'll see the name John Lennon. Because he wrote the song. You may want to sit down for the next bit. Ready? John Lennon didn't perform or sing or play on the APC version of "Imagine." He didn't produce it, direct it, co-produce it, or grab us Latte's during the recording of it. Why? Because he's dead. he just wrote it. And we performed a version of it. If you visit the Project Credits of this site now, you'll start to see what we mean. Hope that helps.
Known songs
"Vacant" (later restyled and renamed "Passive", released by A Perfect Circle)
"Potions" (later "covered" and renamed "Potions (Deliverance Mix)" by Puscifer)
"Ignorant"
"Be Kind To Them"
Photo Gallery
Links