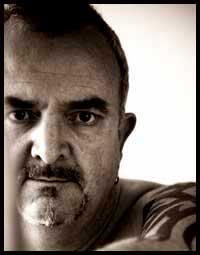 Peter Martin Christopherson, a.k.a. Sleazy (February 27, 1955–November 24, 2010) was a musician, video director and designer, and former member of the influential British design agency Hipgnosis.
He was one of the original members of the infamous Industrial Records band, Throbbing Gristle. After Throbbing Gristle he participated in the foundation of Psychic TV along with Geoffrey Rushton, aka John Balance. After his short time in Psychic TV, Christopherson formed Coil along with Balance, which lasted just under 23 years. Christopherson participated in the reuniting of Throbbing Gristle as well as composing an album for his solo endeavour The Threshold HouseBoys Choir.
Peter Christopherson had worked with Nine Inch Nails on many projects, including filming and directing the Broken Movie, as well as several music videos and contributing on Coil's NIN remixes. Christopherson and Trent Reznor were planning to collaborate musically on Reznor's How To Destroy Angels project, but Christopherson passed before this could come to fruition.[1]
Involvement with NIN and Trent
Film work
External Links