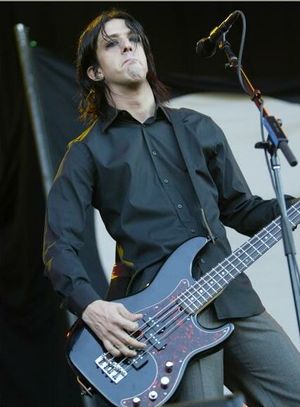 Instruments:
Bass, Guitar, Backing Vocals
Jeordie Osborne White (born June 20, 1971), also famously known as Twiggy Ramirez, joined the Nine Inch Nails touring band in 2005 for the With Teeth era. White doubles bass and guitar duties during live performances and has helped with in-studio work. He and Aaron North co-star in a web comic known as Squires Of Dimness. He appears in the NIN music videos for "The Hand That Feeds" and "Survivalism".
Projects
Marilyn Manson
White was most famous as the bass player and major contributor to the band Marilyn Manson, going by the stage name Twiggy Ramirez. He was responsible for writing a large portion of the band's songs. He left the band in 2002 but re-joined in early 2008.
While Marilyn Manson were opening for NIN during the Self Destruct Touring Cycle, White was part of a one-off band (which also included Robin Finck) called Sick Mutha Fuckers, which was essentially a Twisted Sister cover band that was conceived when White and Finck were playing Twisted Sister songs together for fun during soundchecks. They asked Twisted Sister frontman Dee Snyder to sing with them, he agreed, and the band played a single show in New York City.[1][2]
A Perfect Circle
In 2002 White replaced Paz Lenchantin as the bassist for A Perfect Circle. In an interesting exchange of members, he was recruited with ex-Nine Inch Nails bassist, Danny Lohner, who was assuming guitar duties in APC, and joined drummer Josh Freese, who now acts as NIN's touring drummer. White contributed to the writing, recording and touring phases of A Perfect Circle.
Desert Sessions
White is one of the many artists to take part in Josh Homme's Desert Sessions, which is best described as a drug-tinged superstar jam-band retreat. Many artists have collaborated on these sessions, and they have seen numerous releases.
Goon Moon
White also takes part in this band with Zach Hill (Team Sleep, Hella), and Chris Goss (Kyuss, Queens Of The Stone Age producer).
Body of Work
Discography
A New Hope (Amboog-A-Lard, 1993)
Portrait of an American Family (Marilyn Manson, 1994)
Smells Like Children (Marilyn Manson, 1995)
Antichrist Superstar (Marilyn Manson, 1996)
Dead Man on Campus ("I Only Want to Be With You" with Twiggy Lawson) (Soundtrack, 1998)
Mechanical Animals (Marilyn Manson, 1998)
The Last Tour on Earth (Marilyn Manson, 1999)
Holy Wood (In the Shadow of the Valley of Death) (Marilyn Manson, 2000)
The Desert Sessions Volumes 9 and 10 (2003)
Thirteenth Step (A Perfect Circle, 2003)
eMOTIVe (A Perfect Circle, 2004)
With Teeth (Nine Inch Nails, 2005)
I Got a Brand New Egg Layin' Machine (Goon Moon, 2005)
Goal! ("Cast No Shadow (UNKLE Beachhead Mix)") (Soundtrack, 2005)
Licker's Last Leg (Goon Moon, 2007)
The High End Of Low (Marilyn Manson, 2009)
Born Villain (Marilyn Manson, 2012)
Good Life (Jeff Hilliard single, 2013)
Filmography
Lost Highway (1997)
Pantera 3: Watch It Go (Pantera, 1998)
Dead to the World (Marilyn Manson, 1998)
God Is in the TV (Marilyn Manson, 1999)
Guns, God and Government World Tour (Marilyn Manson, 2002)
Some Kind of Monster (Metallica, 2004)
aMOTION (A Perfect Circle, 2004)
Backstage Pass 3: Uncensored! (KISS, 2005)
Beside You In Time (Nine Inch Nails, 2007)
Guns, God and Government - Live in LA (Marilyn Manson, 2009)