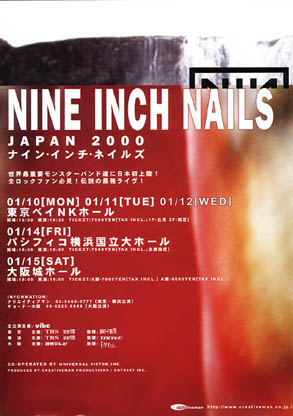 The live Nine Inch Nails performance on January 11th, 2000 took place at the Bay NK Hall in Tokyo, Japan. This was the thirteenth show on the Fragility v1.0 tour. It was the second of three shows played at the Bay NK Hall.
Notes
This show marked the first performance of "Get Down, Make Love" since 1995.
Reznor fell on his face during "March Of The Pigs" and had a hard time staying vertical for the rest of the song.
Just before the encore:
"Thank you. I feel like I might be ruining my reputation by saying that… I'm very grateful to be
here, and it's been a great audience, and I appreciate you guys. Don't tell anybody, okay? Thank
you."

Before "Hurt," Reznor made a very heartfelt speech:
"I'm about to say something really stupid. I want to thank my band, because my band is the best band
in the world. We are the best of friends and this is… one of our favorite songs."

Line-Up
Setlist
"The New Flesh" / "Pinion"
"Sin"
"Piggy"
"Reptile"
"Gave Up"
"La Mer"
"Wish"
"Please"
"Get Down, Make Love"
"Head Like A Hole"
~encore~
"Closer"
"Hurt"