The first part of the Fragility tour, titled Fragility v1.0, took place between November 1999 and February 2000 in Europe, Japan, and Oceania in support of The Fragile. Opening acts for this tour were Atari Teenage Riot and Skingame.
Line-Up
Stage Set-Up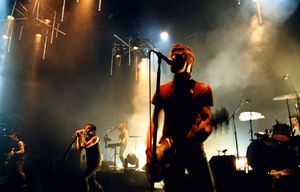 The European and Japanese legs of this tour featured a flowing, gauzy backdrop that could be backlit as needed, and large chandelier-like lighting pods that hung down over the band, with PAR cans and narrow light tubes that glowed and flashed during certain songs in the set.
A notable piece of gear was Clouser's custom keyboard stand, similar to the custom stand used by Reznor on the Self Destruct Touring Cycle, which could rotate in different directions and was fitted with a motorcycle shock absorber. The rough design was done by Clouser, and the stand was built by metal fabricator Tim Ralston, who specializes in movie props.[1] Reznor also had several custom guitars during this tour, with imagery from the album artwork on the bodies.
There was also a projection scrim in front of the band for three songs in the middle of the show, "La Mer," "The Great Below," and "The Way Out Is Through". "La Mer" was accompanied by footage of the ocean, "The Great Below" by microscopic footage of things such as cell division or a heart valve in action, and "The Way Out Is Through" by reflected water ripples that would distort and pixelate with the music. In April 2018 a tape with ocean footage made by David Carson for the tour was bought on ebay and shared on ETS. The footage was not used in its original form as handed in by Carson, but small portions of it were, such as shots of a Great Star Coral used at the beginning of "The Great Below", closeups of underwater bubbles used during "La Mer", and the reflected water ripples that were used in distored form during "The Way Out Is Through". It can be watched here.
Typical Setlist
Europe and Japan
"The New Flesh" / "Pinion"
"Sin"
"Piggy"
"Gave Up"
"La Mer"
"The Great Below"
"The Way Out Is Through"
"Wish"
"Down In It" or "Get Down, Make Love"
"Head Like A Hole"
-Encore-
"Closer"
"Hurt"
"Something I Can Never Have" was played once in Europe. Also "Reptile," "Please," and/or "Even Deeper" were added at some shows. Big Day Out shows featured shorter and more aggressive setlists.
Tour Dates
Europe
| Date/Location | Venue |
| --- | --- |
| 1999/11/09 London, UK | 3 Mills Studios (Dress rehearsal) |
| 1999/11/14 Barcelona, Spain | Pabellon de la Valle Hebron |
| 1999/11/17 Milan, Italy | Alcatraz |
| 1999/11/19 Munich, Germany | Colosseum |
| 1999/11/20 Vienna, Austria | Libro Music Hall |
| 1999/11/22 Berlin, Germany | Columbiahalle |
| 1999/11/23 Copenhagen, Denmark | KB-Hallen |
| 1999/11/25 Paris, France | Zenith de Paris |
| 1999/11/26 Dusseldorf, Germany | Stahlwerk |
| 1999/11/28 Tilburg, Netherlands | 013 |
| 1999/11/29 London, UK | Brixton Academy |
| 1999/12/01 London, UK | Brixton Academy |
Japan
New Zealand / Australia (Big Day Out 2000)
External Links