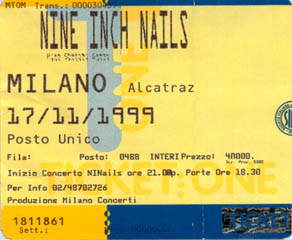 The live performance on November 17th, 1999 took place at the Alcatraz in Milan, Italy. This was the second show on the Fragility v1.0 tour.
Notes
This show marked the first performance of "Something I Can Never Have" since 1996 and the first ever live performance of "Even Deeper".

Before the last song, Reznor told the audience:
"Thank you. We've been gone for a long time, and it's really nice to be back. Thank you very much."

Line-Up
Setlist
"The New Flesh" / "Pinion"
"Sin"
"Something I Can Never Have"
"Gave Up"
"La Mer"
"Wish"
"Head Like A Hole"
~encore~
"Even Deeper"
"Closer"
"Hurt"