1999/11/22 Berlin, Germany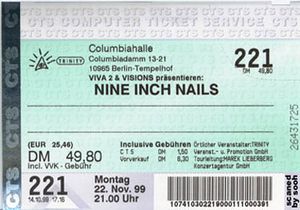 The live performance on November 22nd, 1999 took place at Columbiahalle in Berlin, Germany. Atari Teenage Riot opened for Nine Inch Nails. This was the fifth show on the Fragility v1.0 tour.
Notes
Reznor wasn't very chatty during this show, but during some technical difficulties in the intro to "Closer" he sings, "Something's fucked up" in time to the song. Before the last song, he does say:
"It's nice to be back, thank you very much. This is one of our favorites.

Line-Up
Setlist
"