1999/11/23 Copenhagen, Denmark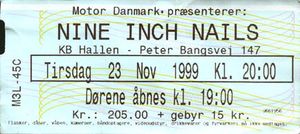 The live performance on November 23rd, 1999 took place at the KB Hallen in Copenhagen, Denmark. Atari Teenage Riot opened for Nine Inch Nails. This was the sixth show on the Fragility v1.0 tour.
Notes
This show featured the first performance of "Reptile" since 1995, which was the last repertoire addition or setlist change for the 1999 European tours.
Before the encore, Reznor stated:
"Thank you very much. I promise I won't stay away as long next time."

This was the second show in a row with sound/instrument problems during "Closer," with important loops and sounds dissappearing altogether during the performance.
Line-Up
Setlist
"The New Flesh" / "Pinion"
"Sin"
"Piggy"
"Reptile"
"Gave Up"
"La Mer"
"Wish"
"Head Like A Hole"
~encore~
"Closer"
"Hurt"