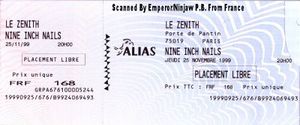 The live performance on November 25th, 1999 took place at the Zenith de Paris in Paris, France. Atari Teenage Riot opened for Nine Inch Nails. This was the seventh show on the Fragility v1.0 tour.
Notes
Something goes sour in the intro to "The Day The World Went Away." They stopped playing and Reznor quipped:
"Okay, once in a while we fuck up too."
"That's the first time we ever did that."

Line-Up
Setlist