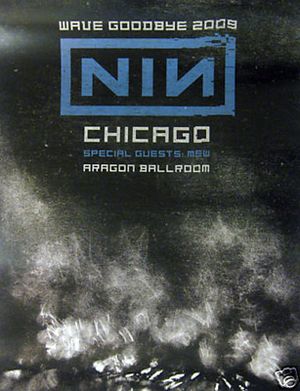 Nine Inch Nails played at the Aragon Ballroom in Chicago, Illinois on August 29, 2009. Mew was the opening act.
Notes
I just want to let you know we're not done making music. 
All of us collectively. Watch the website. Don't kill yourselves yet.

Lineup
Setlist
"Home"
"Heresy"
"Piggy"
"Metal"
"Ruiner"
"Burn"
"Gave Up"
"La Mer"
"Wish"
"Suck"
"Echoplex"
"Reptile" (with Peter Murphy)
"Strange Kind of Love" (with Peter Murphy)
"Final Solution" (with Peter Murphy)
"Hurt"
Bootlegs
Coming Soon
External Links