Versions:
Me, I'm Not
Me, I'm Not (Instrumental)
Me, I'm Not: Olof Dreijer
"Me, I'm Not" is the sixth track on the 2007 release Year Zero. Multitracks for this song were released in raw WAV, GarageBand and Ableton Live formats via remix.nin.com.
Song Credits
Leak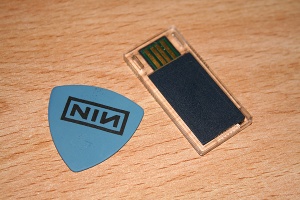 At the February 19th, 2007 Nine Inch Nails concert in Barcelona, Spain, a second plain-looking USB flash drive was found in a bathroom stall. This drive had two MP3 files: one called 2432.mp3 and the other "Me, I'm Not."
Trent Reznor on sounding like KMFDM
A forum user said on The Spiral and ETS:
Play Me, Im not.


Then play 03 - You're No Good - KMFDM - Hau Ruck
Exact same bass line ... and sounds the same
Its kmfdm revamped .. nothing new ...
(kind of)

again ...
ITS STOLEN FROM KMFDM -
but KMFDMs version is better ...


You're no good - Hau Ruck
Trent Reznor replied on The Spiral:
You: go fuck yourself. Now. The day I steal something from KMFD-Fucking-M is a sad fucking day indeed. Call up Sasha and have him sue me if you feel that strongly about it, meanwhile let everyone have some goddamned fun without you pissing on the parade.
Appearances
Halos
Other
Versions
Me, I'm Not
This is the original album version. Highly repetitive, it features a consistent drum loop and manipulated bass riff throughout. On top are layered various synthesizers and samples in addition to Reznor's vocals, which are mostly sung in his lower range, sometimes nearly whispered.
Me, I'm Not (Instrumental)
Running Time: 4:56
This unmastered vocal-less mix was released by Reznor through his remix.nin.com account.
Me, I'm Not: Olof Dreijer
Running Time: 14:00
This remix is on Y34RZ3R0R3M1X3D. Coming in at over 14 minutes long, it's the longest Nine Inch Nails remix to be officially released. Very different from the album original, it begins with a simple beat and synth melody, over which a high-pitched droning sound element is added. This sound invokes similarities to the instrumental melody within the original song's chorus. The sound is a lot like a wave, cresting and receding. Soon, a basic percussion beat comes in on top of these sounds. At around 4 minutes in, the higher sound drops out, and finger-snap percussion joins in shortly thereafter. A hi-hat beat joins in and another beat comes in. At around 5:25 the higher sound begins to creep in and whispered vocals ("I'm not used to this") come in and out through this portion of the song. A lower synth melody comes in almost halfway through as the higher part again disappears momentarily. The higher sounds return as vocals appear sporadically in this sequence. Once again, a wave-like pattern is invoked in the sound elements dominating this piece. Past the 9-minute mark, the lyrics "I define myself/By how well I hide" and "What I know right now" are clearly audible through the rest of the sounds. The finale contains several sound elements emerging and fading away in a repeated cycle before fading out altogether.
Song Credits
Remix and additional production by Olof Dreijer
Olof Dreijer is represented by DEF Ltd.
Live
"Me, I'm Not" was first played live on May 9, 2007 at Luna Park in Sydney, Australia, and remained a regular for the rest of the Performance 2007 tour. Reznor and Alessandro Cortini both play keyboards and synths on this song, with a computer hooked up to Reznor's machine. In the song's first live performances, Reznor played slide guitar but it was played by Aaron North in subsequent performances. Josh Freese and Jeordie White did not play on this song live.
Throughout the Lights in the Sky Tour, "Me, I'm Not" was occasionally played before the "Ghosts" section of the setlist, played alongside (or replaced with) "Vessel", "The Warning", or "The Great Destroyer".
"Me, I'm Not" was played once in 2009, at the final show of the Wave Goodbye Tour.
The song was a regular on some legs of the Hesitation Marks touring cycle, including opening the show at several dates. It would continue to be played occasionally throughout the Cold And Black And Infinite Tour in 2018 and the U.S./U.K. 2022 tour.
Lyrics
    And it's happening
    Never planned on this
    You got something I need
    Kind of dangerous
    And I'm losing control
    I'm not used to this
    What you want from me?
    I'm not used to this
    Can't seem to shut it off
    This thing I've begun
    And it's hard to tell—just
    Where it's coming from
    And it's hard to see
    What I'm capable of
    And it's hard to believe—just
    What I've become
    
    Hey
    Can we stop?
    Me, I'm not
    
    I can swallow it down
    Keep it all inside
    I define myself
    By how well I hide
    Feel it coming apart
    Well at least I tried
    I can win this war
    By knowing not to fight
    If I take it all back
    Some way somehow
    If I knew back then
    What I know right now
    
    Hey
    Can we stop?
    Me, I'm not

The ninth line of the first verse was shortened in the actual recording:
    I can't shut it off

External Links