The Lollapalooza Tour took place from July 12–August 20, 1991 in North America as part of the inaugural Lollapalooza festival, organized by Jane's Addiction frontman Perry Farrell. The song "Now I'm Nothing" was written as an intro track for this tour. Portions of this performance can be found on Closure. The tour is part of the Pretty Hate Machine Tour series.
The other bands who played during this tour were Jane's Addiction, Siouxsie and the Banshees, Living Colour, Ice-T & Body Count, Butthole Surfers, Rollins Band, Violent Femmes, Fishbone and Emergency Broadcast Network. Nine Inch Nails would again be part of later incarnations of the Lollapalooza Festival in 2008, 2013 and 2014.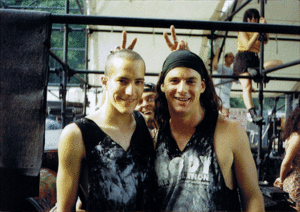 Line-Up
Stage Set-Up
The stage setup was basic, but an added element was two black banners with the letter 'N' on them in white, which hung onstage behind the band. The second 'N' is backwards, implying that the banners were supposed to resemble the NIN logo, but the 'I' is not present in any photos or footage from the tour. The banners had holes in them, most likely to reduce wind resistance as the outdoor stage was sometimes open at the back.
Typical setlist
Tour dates
Lollapalooza Warmup
Lollapalooza '91 Tour
| Date/City | Venue |
| --- | --- |
| 1991/07/18 Phoenix, AZ | Compton Terrace |
| 1991/07/20 San Diego, CA | Devore Stadium |
| 1991/07/21 Laguna Hills, CA | Irvine Meadows |
| 1991/07/23 Laguna Hills, CA | Irvine Meadows |
| 1991/07/24 Laguna Hills, CA | Irvine Meadows |
| 1991/07/26 Mountain View, CA | Shoreline Amphitheatre |
| 1991/07/27 Mountain View, CA | Shoreline Amphitheatre |
| 1991/07/30 Bonner Springs, KS | Sandstone Amphitheatre |
| 1991/08/01 St. Paul, MN | Harriet Island |
| 1991/08/03 Chicago, IL | World Music Theatre |
| 1991/08/04 Clarkston, MI | Pine Knob Music Theatre |
| 1991/08/05 Cuyahoga Falls, OH | Blossom Music Center |
| 1991/08/07 Toronto, ON | CNE Grandstand |
| 1991/08/09 Mansfield, MA | Great Woods |
| 1991/08/10 Mansfield, MA | Great Woods |
| 1991/08/11 Stanhope, NJ | Waterloo Village |
| 1991/08/13 Saratoga, NY | Saratoga Performing Arts Center |
| 1991/08/14 Stanhope, NJ | Waterloo Village |
| 1991/08/16 Washington, DC | Lake Fairfax |
| 1991/08/17 Raleigh, NC | Walnut Creek Amphitheater |
| 1991/08/18 Atlanta, GA | Coca-Cola Lakewood Amphitheater |
| 1991/08/20 Orlando, FL | Central Florida Fairgrounds |
See also