2005/05/19 Philadelphia, PA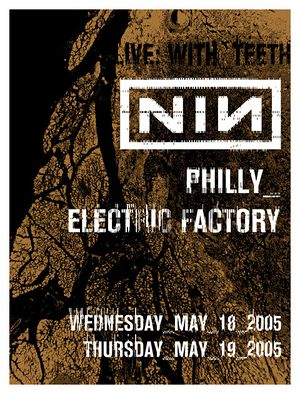 Nine Inch Nails played at the Electric Factory in Philadelphia, Pennsylvania, on May 19, 2005 as part of the With Teeth Club Tour. The Dresden Dolls were the opening act.
Notes
This concert has become famous due to Trent Reznor's tantrum during the second verse of "Head Like A Hole." Finally frustrated with his guitar and microphone cutting in and out, he uttered:
"Something's gonna get broken!"

After the problems persisted, he threw down the guitar and microphone stand and stormed across the stage, while the audience continued to sing along. Reznor had been plagued by sound difficulties throughout the concert. Earlier, during "Reptile," his guitar started to cut out. He then threw his guitar, mic stand, and a full water bottle at a stagehand before screaming into the microphone:
"Fix It!"

Line-Up
Setlist
"Beside You In Time" (Intro)
"Piggy"
"Burn"
"Closer"
"Reptile"
"Gave Up"
"Suck"
"Wish"
"Hurt"
"Head Like A Hole"
Bootlegs
A bootleg DVD of this concert is widely available on the internet.
External Links