2005/11/06 Wilkes-Barre, PA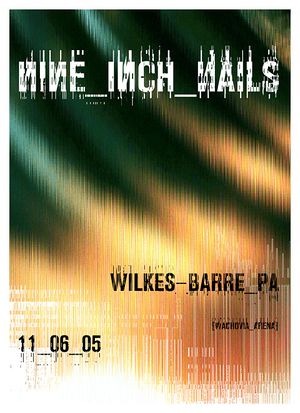 Nine Inch Nails played at the Wachovia Arena in Wilkes-Barre, Pennsylvania, on November 6, 2005 as part of the With Teeth Fall Arena Tour. Death From Above 1979 and Queens Of The Stone Age were the opening acts.
Notes
Nine Inch Nails plays to an almost empty 10,000-seat arena on a Sunday night in Wilkes-Barre and Trent seems kind of pissed about it right from the start. After Terrible Lie he says, "Thank you, we're Spinal fucking Tap." A malfunctioning curtain also draws Trent's wrath when it drops down just far enough to cover his face during March of the Pigs. After the, "And doesn't it make you feel better?" line, Reznor stops the song and says, "What would make me feel better would be to take the guy that raises that curtain and just punch the living fuck out of his fucking face right now. You know what I'm saying?"
Lineup
Setlist
Bootlegs
There's a very good quality audience recording of this show available. Unfortunately, the tape cuts off a little less than three minutes into Dead Souls, losing Suck, Hurt and two very good performances of The Hand That Feeds and Head Like a Hole. Still, highly recommended if you can track it down.
External Links
You may also include links to concert reviews and other articles about the concert. YouTube links are welcome as long as they have been uploaded by the person who recorded the video.