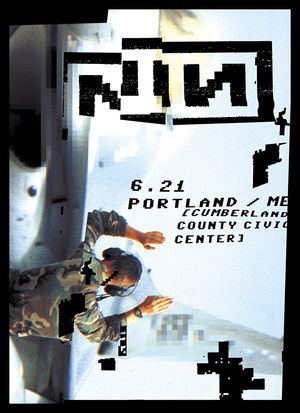 This concert took place on June 21st, 2006 at the Cumberland County Civic Center in Portland, Maine. Peaches was the opening act on this date. This was part of the Summer Amphitheater Tour.
Notes
The band played a slightly longer setlist than usual, and played nearly every song in rotation for this tour. This could very easily be because of the long delay this show had (originally scheduled for February 28, 2006). The show was postponed to this date because Trent Reznor was sick with the flu on the inital scheduled date.
After the band ended "The Big Come Down" incorrectly, Reznor spoke to the crowd:
"Some of you noticed we totally fucked up 'The Big Come Down,' but that's kind of cool because not
every crowd gets to see us fuck up and you guys can say 'Hey, I was there when Nine Inch Nails 
totally fucked up The Big Come Down!'"

Lineup
Setlist
"Sin"
"Closer"
"Burn"
"Gave Up"
"Only"
"Wish"
"La Mer"
"The Big Come Down"
"Suck"
"Hurt"
External Links