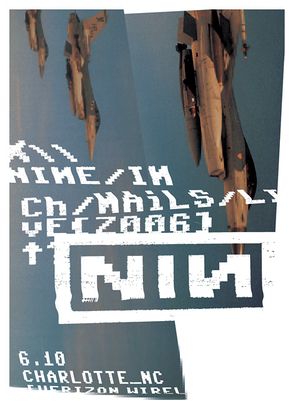 This concert took place on June 10th, 2006, at the Verizon Wireless Amphitheater in Charlotte, North Carolina. Bauhaus and TV On The Radio were the opening acts on this date. This was part of the Summer Amphitheater Tour.
Notes
About 45 minutes into the set, it began raining and lightning. After playing "The Big Come Down," Trent Reznor addressed the audience, stating, "God has told me we have to stop the show for a few minutes, but we will be back on." All people on the lawn were told to move up to the covered seating area. After about a 30 minute break, Nine Inch Nails returned to the stage. Reznor again addressed the crowd, and stated:
"How long does it take for you people to get off the grass? This has never happened to me before. It was like I was fucking
you and then stopped before letting you cum. We'll play some extra songs for you."

Lineup
Setlist
Bootlegs
External Links