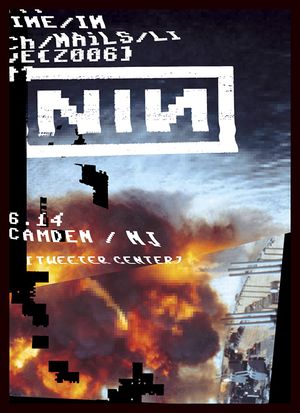 On June 14th, 2006 the Tweeter Center in Camden, New Jersey was host to a live performance by Nine Inch Nails, with opening acts Bauhaus and TV On The Radio. This was part of the Summer Amphitheater Tour.
Notes
During this concert, while singing "Get Down, Make Love," Trent Reznor uttered what would become a legendary quote in response to someone who was apparently spitting water at him:
"Spit on me again and I'm gonna rip your fucking cunt off!"

Lineup
Alessandro Cortini: Keyboards, programming, guitar, backing vocals
Josh Freese: Drums
Aaron North: Guitar, backing vocals
Trent Reznor: Vocals, guitar, keyboards, tambourine
Jeordie White: Bass, keyboards, guitar, backing vocals
Setlist
"Sin"
"Closer"
"Burn"
"Gave Up"
"Only"
"Wish"
"La Mer"
"Suck"
"Get Down, Make Love"
External Links