Further Down The Spiral Tour
The second part of the Self Destruct Tour, often referred to as the Further Down The Spiral Tour, took place between August 1994 and February 1995 in North America in support of The Downward Spiral. The tour is part of the Self Destruct Touring Cycle. Opening acts for this tour were Hole, Jim Rose Circus, Marilyn Manson, The Melvins and Pop Will Eat Itself.
The Dallas and Omaha shows in 1995 were professionally filmed by Simon Maxwell and intended for home video release, but the project was scrapped. The footage eventually leaked online in 2022.
Line-Up
Stage Set-Up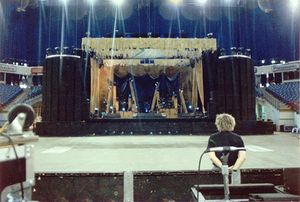 The stage setup for this tour was somewhat basic. An onstage lighting detail was provided by very tall columns with a single spotlight atop each one. There was a large draped backdrop (apparently made of rubber) and chunks of linen-like fabric hung across the top of the stage structure. There was also a three-piece scrim at the front of the stage that would be pulled away during the first song. The drums and main keyboard were both on large, rustic wooden risers with pieces of dark fabric hanging off them and what appear to be fake blood stains. Reznor's keyboard was mounted on a swinging stand fitted with a motorcycle shock absorber, and Lohner's keyboard stand had nails and screws welded to the edge of it.[1]
This was the first NIN tour to feature a projection screen for three slow songs in the middle of the show, in this case "Eraser," "Hurt," and "The Downward Spiral." "Eraser" was accompanied by visuals of the desert, "Hurt" by compiled stock footage of various bleak imagery such as war atrocities and decaying animals, and "The Downward Spiral" by a visual of a wall that is made to appear doused in blood during the song's climax.
Typical setlist
"Pinion"
"Sin"
"Piggy"
"Reptile"
"Gave Up"
"Eraser"
"Hurt"
"The Downward Spiral"
"Wish"
"Suck"
"The Only Time" or "Ruiner"
"Head Like A Hole"
-Encore-
"Closer"
Also "Physical," "Burn," "Get Down, Make Love," and "Terrible Lie" made a few occasional appearances at the second half of the show or at the encore.
Tour Dates
| Date/Location | Venue |
| --- | --- |
| 1994/08/27 Rochester, NY | Auditorium Theatre |
| 1994/08/29 Cleveland, OH | Nautica Stage |
| 1994/08/30 Cleveland, OH | Nautica Stage |
| 1994/09/02 Clarkston, MI | Pine Knob Amphitheater |
| 1994/09/03 Chicago, IL | UIC Pavillion |
| 1994/09/05 St Paul, MN | Roy Wilkins Auditorium |
| 1994/09/07 Milwaukee, WI | Riverside Theatre |
| 1994/09/10 Muncie, IN | Ball State Arena |
| 1994/09/11 St Louis, MO | Fox Theatre |
| 1994/09/13 Nashville, TN | Memorial Gym, Vanderbilt University |
| 1994/09/14 Memphis, TN | Cook Convention Center |
| 1994/09/16 Springfield, MO | Shrine Mosque |
| 1994/09/17 Kansas City, KS | Memorial Hall |
| 1994/09/19 Omaha, NE | Omaha Civic Auditorium |
| 1994/09/24 Seattle, WA | Center Arena |
| 1994/09/27 Vancouver, BC | PNE Forum |
| 1994/09/30 Sacramento, CA | Arco Arena |
| 1994/10/01 San Jose, CA | Event Center, San Jose State University |
| 1994/10/03 Los Angeles, CA | Universal Amphitheatre |
| 1994/10/04 Los Angeles, CA | Universal Amphitheatre |
| 1994/10/06 Los Angeles, CA | Universal Amphitheatre |
| 1994/10/07 Los Angeles, CA | Universal Amphitheatre |
| 1994/10/10 San Diego, CA | San Diego Sports Arena |
| 1994/10/11 Phoenix, AZ | Arizona Verterans Memorial Coliseum |
| 1994/10/14 Oakland, CA | Henry J. Kaiser Convention Center |
| 1994/10/16 Las Vegas, NV | Thomas & Mack Center, UNLV |
| 1994/10/18 Salt Lake City, UT | Delta Center |
| 1994/10/20 Denver, CO | McNichols Arena |
| 1994/10/26 El Paso, TX | El Paso County Coliseum |
| 1994/10/28 Austin, TX | Frank Erwin Center |
| 1994/10/29 Dallas, TX | State Fair Park Coliseum |
| 1994/10/31 Houston, TX | The Summit |
| 1994/11/02 Oklahoma City, OK | Lloyd Noble Center, University of Oklahoma |
| 1994/11/03 Tulsa, OK | Expo Square Pavilion |
| 1994/11/05 Carbondale, IL | SIU Arena, Southern Illinois University |
| 1994/11/06 Iowa City, IA | Carver-Hawkeye Arena |
| 1994/11/08 Madison, WI | Dane County Coliseum |
| 1994/11/09 Champaign, IL | Assembly Hall, University of Illinois at Urbana–Champaign |
| 1994/11/12 Louisville, KY | Louisville Gardens |
| 1994/11/13 Columbus, OH | Battelle Hall, Greater Columbus Convention Center |
| 1994/11/15 Dayton, OH | Hara Arena (POSTPONED TO DECEMBER 29 due to Maise's death) |
| 1994/11/18 Jacksonville, FL | Jacksonville Coliseum |
| 1994/11/20 Miami, FL | Miami Arena |
| 1994/11/21 Tampa, FL | Exposition Hall |
| 1994/11/23 Winston-Salem, NC | Joel Memorial |
| 1994/11/25 Hampton, VA | Hampton Coliseum |
| 1994/11/28 Pittsburgh, PA | Civic Arena |
| 1994/11/29 Buffalo, NY | Buffalo Memorial Auditorium |
| 1994/12/01 Toronto, ON | Maple Leaf Gardens |
| 1994/12/03 Boston, MA | Boston Garden |
| 1994/12/04 Albany, NY | Knickerbocker Arena |
| 1994/12/06 Baltimore, MD | Baltimore Arena |
| 1994/12/07 New York City, NY | Madison Square Garden (POSTPONED TO DECEMBER 8 due to Robin's finger) |
| 1994/12/08 New York City, NY | Madison Square Garden (RESCHEDULED FROM DECEMBER 7) |
| 1994/12/09 New York City, NY | Madison Square Garden |
| 1994/12/11 Philadelphia, PA | Corestates Spectrum |
| 1994/12/28 Cleveland, OH | The Odeon |
| 1994/12/29 Dayton, OH | Hara Arena (RESCHEDULED FROM NOVEMBER 15) |
| 1994/12/31 Detroit, MI | Palace Of Auburn Hills |
| 1995/01/03 Montreal, QC | Theatre Du Forum |
| 1995/01/05 Worcester, MA | The Centrum |
| 1995/01/06 Uniondale, NY | Nassau Coliseum |
| 1995/01/08 Cleveland, OH | CSU Convocation Centre |
| 1995/01/09 Cleveland, OH | CSU Convocation Centre |
| 1995/01/12 Kalamazoo, MI | Wings Stadium |
| 1995/01/13 Toledo, OH | Sports Arena |
| 1995/01/15 Chicago, IL | Rosemont Horizon |
| 1995/01/16 Chicago, IL | Rosemont Horizon |
| 1995/01/18 Milwaukee, WI | Mecca Arena |
| 1995/01/19 Moline, IL | Mark of the Quad (CANCELLED due to snowstorm) |
| 1995/01/21 Indianapolis, IN | State Fair Coliseum |
| 1995/01/22 Evansville, IN | Roberts Arena |
| 1995/01/24 Atlanta, GA | The Omni |
| 1995/01/25 Columbia, SC | Carolina Coliseum |
| 1995/01/27 Orlando, FL | Orlando Arena |
| 1995/01/30 Murfreesboro, TN | Murphy Center, Middle Tennessee State University |
| 1995/01/31 Little Rock, AR | Barton Coliseum |
| 1995/02/02 Lincoln, NE | Pershing Auditorium (POSTPONED TO FEBRUARY 13 due to illness) |
| 1995/02/04 Minneapolis, MN | Target Center |
| 1995/02/05 Lacrosse, WI | LaCrosse Center |
| 1995/02/07 Sioux Falls, SD | Sioux Falls Center |
| 1995/02/08 Topeka, KS | Expo Center |
| 1995/02/10 Lubbock, TX | NO VENUE (CANCELLED) |
| 1995/02/11 Dallas, TX | Fair Park Coliseum |
| 1995/02/13 Columbia, MO | Hearnes Center, University of Missouri (CANCELLED in lieu of Omaha make-up) |
| 1995/02/13 Omaha, NE | Omaha Civic Auditorium (RESCHEDULED FROM FEBRUARY 2) |
| 1995/02/14 St. Louis, MO | Kiel Center |
| 1995/02/16 Pensacola, FL | Civic Center (CANCELLED due to venue's main power feed melting) |
| 1995/02/18 New Orleans, LA | Lakefront Arena, University of New Orleans |