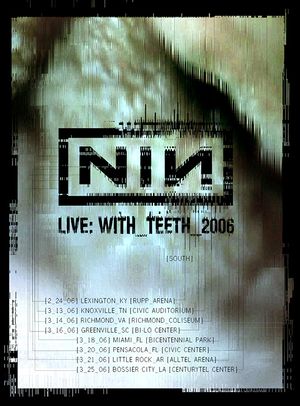 On February 24th, Nine Inch Nails performed at the Rupp Arena in Lexington, Kentucky as part of the With Teeth Spring Arena Tour. Moving Units served as the opening band for this date.
Quotes
After finishing "Every Day Is Exactly The Same," Trent Reznor spoke at length to the crowd:
When I wrote that song, whenever it was, a year and a half ago, something like that, I had just came
out of a phase of pretty much trying to kill myself.  

I realized, at the end of that, that the thing that has always kinda saved me, gave me a reason to
live, is music. And just how important music has always been to me, listening to it, being a fan.  
Being able to write it, being able to play it for people. 

I got a call today from the record label today saying, "Hey, that song is #1 on the Alternative
Whatever-The-Fuck Chart!" and I'm appreciative of that and that's cool, and I don't even know what  
that means, I don't listen to the radio, and I know it's not selling any records. I don't give a 
fuck about that. The important thing is it's cool to be able to be here, and after so many years be 
able to come back out and see all you people show up, and be able to communicate with you like that, 
it was pretty fuckin' great.  

I want to say thank you on behalf of the band. I appreciate you being around. We will not let you 
down. We're in it for the right reasons.

See, this is why I don't talk very much between songs.

Lineup
Setlist
External Links