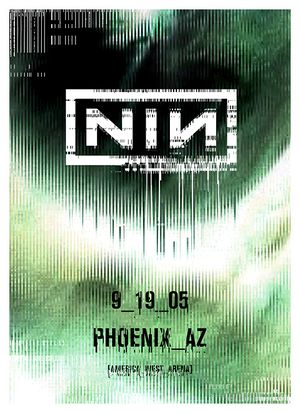 The live performance on September 19th, 2005 took place at the America West Arena in Phoeniz, Arizona with Queens Of The Stone Age and Autolux opening the show.
Notes
Finally, we got through the 1st show! It felt great onstage, I hope those in attendance left
feeling the same way. To those planning on coming, do yourself a favor and show up early. It's 
well worth getting there for Autolux, and you know QOTSA are fucking awesome.

5:08pm_PST

Lineup
Setlist
"Pinion"
"Wish"
"Closer"
"Burn"
"Gave Up"
"Eraser"
"Right Where It Belongs"
"Beside You In Time"
"Sin"
"Only"
"Not So Pretty Now"
"Deep"
"Down In It"
"Hurt"
Bootlegs
A live bootleg can be found at Ninlive.com.
External Links