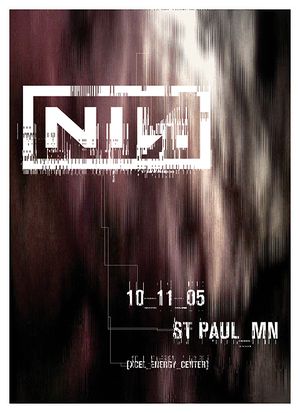 Nine Inch Nails Performed at Xcel Energy Center in St. Paul, Minnesota, on October 11, 2005 as part of the With Teeth Fall Arena Tour. Autolux and Queens Of The Stone Age were the opening acts.
Notes
Soundcheck consisted of "Love Is Not Enough," "The Frail," "The Wretched," and "Starfuckers, Inc."
During Queens of the Stone Age's set, a floorboard was ripped up and sent crowd-surfing, with two people standing on top of it. Ultimately it made its way to the front barricade, where security caught it and acted quickly to set it back in place, as it had exposed bare ice to be used in the hockey game scheduled for the following evening.
Trent Reznor did not sing the entire first verse of "Closer." He realized he was late in getting into the song but found his place and rolled with it.
Lineup
Setlist
"Pinion" (Intro)
"Love Is Not Enough"
"The Frail"
"The Wretched"
"Closer"
"Burn"
"Gave Up"
"Eraser"
"Wish"
"Sin"
"Only"
"Reptile"
"Suck"
"Hurt"
Bootlegs
Audio and video bootlegs of this performance are available through various torrent sites.
External Links