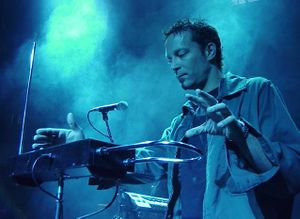 Instruments:Keyboards, Programming, Backing Vocals, Theremin, Drums
Active:1994-2001
Charles Alexander Clouser (born June 28, 1963 in Hanover, New Hampshire) is a former Nine Inch Nails band member whose activities included playing drums and keyboard, engineering, mixing and music programming. Clouser (along with Richard Patrick, Danny Lohner and Chris Vrenna) joined NIN onstage for six songs at the Cleveland show of the NIN 2022 tour.
Career
Clouser was originally hired by Trent Reznor in the early nineties as a studio programmer. In an interview with ComingSoon[1], he explains further:
How did you meet up with Trent Reznor and Nine Inch Nails?

It was working for that composer that brought me from New York to Los Angeles, where I reunited with a bunch of college friends from back east, one of whom was one of many producers on a Nine Inch Nails music video. [Nine Inch Nails] needed some sound effects for the "Happiness In Slavery" music video, which had this performance artist Bob Flanagan being eaten alive by this mechanical torture chair. They needed the sound effects that the mechanical chair was going to make: sort of motor and meat grinder-type sounds. They had all the gear they needed, they just needed someone to bring in new sounds and a different approach. I showed up with a disk drive that had a bunch of samples of stuff like dentist drills, jackhammers, and shit like that. So we manipulated a bunch of sounds and did this thing as basically an overdub for the music video. We finished it in just a couple of hours and had all this extra time, so Trent and I spent the rest of the time playing video games and screwing around in the studio and, then, before I left he said, "well I have this other thing that I am doing that I was wondering if you could help me out on." He was in the final stages of the The Downward Spiral album while at the same time producing the Marilyn Manson record and didn't have the time to fix the drums on the Manson record. So he had me do drum replacement and fatten up the acoustic samples. So once I got there, I kind of never left.

How long did you stay on as a behind-the-scenes member of the group?

Before I was playing on stage with the band, I went on the road with them for quite awhile setting up and operating a portable studio. We had a bunch of computers and synths that we'd haul around in the buses and would set it up in hotel rooms whenever there were a few days off so Trent could do some writing. I did that for a while. Eventually, the original keyboard player James Woolley was fixing to leave so it was like, hey dude, you're up. I kind of took over in the middle of the tour. My first gig ever playing keyboards live and in front of people was for like 20-some thousand people at the Palace of Auburn Hills outside of Detroit.
Clouser was a member of NIN from 1994-2000 and was part of the live band on the Self Destruct and Fragility tours, as well as collaborating with Reznor in the studio on various projects. One such collaboration being the Natural Born Killers soundtrack on which he aided in recording and producing a new version of "Something I Can Never Have." His work can also be heard on releases such as Further Down the Spiral and Things Falling Apart.
He has shared songwriting credits for the NIN songs "The Way Out Is Through" and "Starfuckers, Inc." He appears in the music videos for "Hurt" (live), "Eraser" (live), "Wish" (live), "The Perfect Drug" and "Into The Void". He has also done remixes for various bands, including: White Zombie, Marilyn Manson, Rammstein, Prong, Killing Joke, Type O Negative, Zilch, Schwein, Collide, 12 Rounds, Foetus, Meat Beat Manifesto and Esthero.
Since leaving the NIN camp in 2001, he has worked as a composer, scoring the films Saw (2004), Saw II (2005), Saw III (2006), Saw IV (2007), Saw V (2008), Saw VI (2009), Saw VII (2010), Resident Evil: Extinction (2007), Death Sentence (2007), Dead Silence (2007), Deepwater (2005) and End Of Days (1999), as well as the TV series Las Vegas, Fastlane and NUMB3RS. He also appeared in the documentaries Moog (2004) and I Dream Of Wires (2014).
Body Of Work with NIN
Other
Natural Born Killers Soundtrack
External links