A Mix Of All That Was is a fan-compiled bootleg consisting of one recording of every song Nine Inch Nails had played live between 1989 and 2000. This bootleg was made by the same person who created In This Twilight (Live 2005-2007) and A Million Miles Away. A Mix Of All That Was comes with front and back album art as well as disc art for all four discs (disc 1 disc 2 disc 3 disc 4). Also included is a word document describing the varying quality:
WARNING: This four disk cd set contains one of each song every played by NIN live (from 1988-2000). 
Each track is possibly the best performance of the song. The songs were picked because of some 
quality that others lacked such as unique lyrics, interesting sounds, instrumental solos, or because   
of something  that makes them stand out. Because of this the sound quality isn't always the best.  
I apologize in advance for the sound quality of "Closer To God," "Heresy," and "Kinda I Want To." 
Altogether this collection of songs sounds like one concert, but for reasons out of my control 
song changes are sometimes obvious. Send all feedback to NotinCnStopMeNow@Gmail.com.

This bootleg is available for download from The Webpit
Track List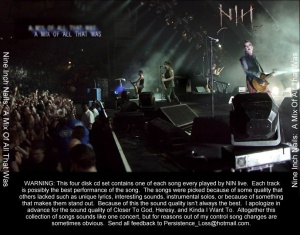 "The New Flesh"/"Now I'm Nothing"/"Pinion" 3:17
"March Of The Pigs" 4:18
"Reptile" 6:59
"Sanctified" 6:57
"Closer To God" 4:03
"No, You Don't" 4:13
"Terrible Lie" 6:14
"Sin" 4:29
"Heresy" 4:01
"Twist" 5:46
"The Day The World Went Away" 6:42
"Something I Can Never Have" 6:32
"That's What I Get" 4:43


Intro + "The Frail" 3:59
"The Wretched" 5:35
"Gave Up" 4:27

"The Big Come Down" 4:03
"Into The Void" 4:47
"Down In It" 5:05
"Kinda I Want To" 5:29
"The Only Time" 5:24
"Physical" 5:56
"Supernaut" 4:02
"Maybe Just Once" 5:09
"Wish" 3:48
"La Mer" 4:43
"The Great Below" 5:01
"The Way Out Is Through" 3:38


Intro + "Mr. Self Destruct" 7:07
"Big Man With A Gun" 2:18
"Complication" 2:01
"Suck" 5:06
"Get Down, Make Love" 3:19
"The Fragile" 4:27
"Closer" 6:23
"The Mark Has Been Made" 3:45
"Burn" 4:48
"Somewhat Damaged" 4:13
"Reptile" with David Bowie 6:14
"Help Me I Am In Hell" 3:18
"Happiness In Slavery" 7:37
"Eraser" 4:54
"Hurt" 5:04
"The Downward Spiral" 3:44


"The New Flesh"/"Pinion" 3:47
"Even Deeper" 6:17
"Please" 3:18
"Dead Souls" 5:28
"The Becoming" 4:55
"Head Like A Hole" 7:57
"Eraser" (Instrumental) 3:35
"Subterraneans" with David Bowie 4:27
"Scary Monsters" with David Bowie 5:18
"Ringfinger" 6:01
"Just Like You Imagined" 3:35
"I Do Not Want This" 4:04
"Starfuckers, Inc." 5:42
"Ruiner" 5:02
"Hurt" with David Bowie 7:21
Total Time: 296:37 (4h 56m 37s)