The first arena leg of the Live: With Teeth tour took place between September and December 2005 and covered major markets in the US and Canada as well as in South America. Opening acts for this tour were Autolux, Death From Above 1979, Queens Of The Stone Age and The Standard.
Line-Up
Stage Set-Up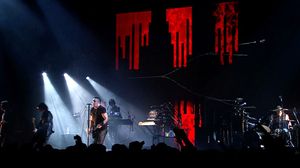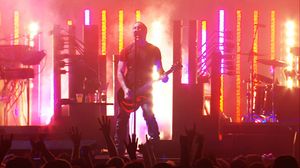 This tour incorporated a very elaborate visual display, incorporating a screen behind the stage, light columns, geometric "teeth" lights inspired by the With Teeth era artwork, a grid of overhead lights, and a sheer silver screen that would drop in front of the stage. Each show began with the screen dropped down in front of the stage and would be raised as the third song in the set ("You Know What You Are?" or "Wish") began. It would drop down again halfway through the set for "Eraser," "Right Where It Belongs" and "Beside You In Time," with film footage directed by Andrea Giacobbe projected onto the screen for the former two songs. Near the end of "Beside You In Time," Reznor "shattered" the screen with his mic stand, prompting it to be raised.
Setlists
The shows had a setlist that remained fairly consistent throughout the tour. There was little to no change in the setlists during the period in which Carapetis was with the band. "Deep", "Only", "Right Where It Belongs", "Not So Pretty Now" and full version of "Beside You In Time" made their live debut on this tour.
Pre-show music
In a question submitted to nin.com/access, a fan asked what music was being played before the With Teeth Touring Cycle shows, and Reznor posted a list of songs.
Dates
North America
| Date/Location | Venue |
| --- | --- |
| 2005/09/16 San Diego, CA | Cox Arena |
| 2005/09/17 Tuscon, AZ | Convention Center (CANCELLED) |
| 2005/09/19 Phoenix, AZ | America West Arena |
| 2005/09/20 Fresno, CA | Selland Arena |
| 2005/09/23 Seattle, WA | Key Arena |
| 2005/09/24 Portland, OR | Rose Garden Arena |
| 2005/09/26 Vancouver, BC | Pacific Coliseum |
| 2005/09/28 Sacramento, CA | Arco Arena |
| 2005/09/30 Oakland, CA | Oakland Coliseum (POSTPONED TO NOVEMBER 19) |
| 2005/10/01 Los Angeles, CA | Hollywood Bowl |
| 2005/10/04 Salt Lake City, UT | E Center |
| 2005/10/05 Denver, CO | Pepsi Center |
| 2005/10/07 Chicago, IL | Allstate Arena |
| 2005/10/08 Detroit, MI | Joe Louis Arena |
| 2005/10/09 Cleveland, OH | Gund Arena |
| 2005/10/11 St. Paul, MN | Xcel Energy Center |
| 2005/10/13 Madison, WI | Alliant Energy Center |
| 2005/10/14 St. Louis, MO | Savvis Center |
| 2005/10/16 San Antonio, TX | SBC Center |
| 2005/10/17 Dallas, TX | American Airlines Arena |
| 2005/10/19 Houston, TX | Toyota Center |
| 2005/10/21 Jacksonville, FL | Jacksonville Arena |
| 2005/10/22 Tampa, FL | St. Pete Times Arena |
| 2005/10/24 Ft. Lauderdale, FL | Office Depot Center (CANCELLED) |
| 2005/10/25 Orlando, FL | TD Waterhouse Center |
| 2005/10/27 Atlanta, GA | Philips Arena |
| 2005/10/29 New Orleans, LA | Voodoo Festival |
| 2005/10/30 Memphis, TN | Voodoo Festival |
| 2005/10/31 Nashville, TN | Gaylord Entertainment Center |
| 2005/11/02 Washington, DC | MCI Center |
| 2005/11/03 New York, NY | Madison Square Garden |
| 2005/11/05 Philadelphia, PA | Wachovia Spectrum |
| 2005/11/06 Wilkes-Barre, PA | Wachovia Arena |
| 2005/11/08 Boston, MA | Fleet Center |
| 2005/11/10 Toronto, ON | Air Canada Centre |
| 2005/11/11 Montréal, QC | Bell Centre |
| 2005/11/14 Winnipeg, MB | MTS Centre |
| 2005/11/16 Edmonton, AB | Rexall Arena |
| 2005/11/17 Calgary, AB | Saddledome Arena |
| 2005/11/19 Oakland, CA | Oakland Coliseum (RESCHEDULED FROM SEPTEMBER 30) |
| 2005/11/20 San Diego, CA | Cox Arena (RESCHEDULED FROM SEPTEMBER 16) |
South America
North America additional dates
KROQ Almost Acoustic Christmas