With Teeth: Summer Amphitheater Tour
In the Summer of 2006, Nine Inch Nails embarked upon its Summer Amphitheatre Tour (also called the Inconvenient Truth Tour), featuring supporting artists Saul Williams, Bauhaus, TV On the Radio, and Peaches. The tour is part of the Live: With Teeth tour. Due to the unique lighting and production elements on this leg of the tour, select songs were included as a bonus on the Beside You In Time DVD/Blu-ray. Each performance (except 5/26 in George, WA) had a unique poster for sale.
Line-Up
Dates
| Date/City | Venue |
| --- | --- |
| 2006/05/26 George, WA | Gorge Amphitheatre |
| 2006/05/27 Ridgefield, WA | Amphitheater at Clark County |
| 2006/05/28 Nampa, ID | Idaho Center |
| 2006/05/30 Morrison, CO | Red Rocks Amphitheatre |
| 2006/05/31 Albuquerque, NM | Journal Pavilion |
| 2006/06/02 San Antonio, TX | Verizon Wireless Amphitheater |
| 2006/06/03 Dallas, TX | Smirnoff Music Centre |
| 2006/06/04 Houston, TX | Cynthia Woods Mitchell Pavilion |
| 2006/06/06 Birmingham, AL | Verizon Wireless Music Center |
| 2006/06/07 Atlanta, GA | Hi-Fi Buys Amphitheatre |
| 2006/06/09 Raleigh, NC | Alltel Pavilion |
| 2006/06/10 Charlotte, NC, | Verizon Wireless Amphitheater |
| 2006/06/11 Virginia Beach, VA | Verizon Wireless Amphitheater |
| 2006/06/13 Bristow, VA | Nissan Pavilion |
| 2006/06/14 Camden, NJ | Tweeter Center at the Waterfront |
| 2006/06/16 Holmdel, NJ | PNC Bank Arts Center |
| 2006/06/17 Wantagh, NY | Tommy Hilfiger at Jones Beach Theater |
| 2006/06/18 Saratoga, NY | Saratoga Performing Arts Center |
| 2006/06/20 Hartford, CT | New England Dodge Music Center |
| 2006/06/21 Portland, ME | Cumberland County Civic Center (RESCHEDULED FROM FEBRUARY 28) |
| 2006/06/23 Boston, MA | Tweeter Center |
| 2006/06/24 Toronto, ON | Molson Amphitheater |
| 2006/06/25 Detroit, MI | DTE Energy Music Theatre |
| 2006/06/27 Cleveland, OH | Blossom Music Theater |
| 2006/06/28 Columbus, OH | Germain Amphitheater |
| 2006/06/30 Pittsburgh, PA | Post-Gazette Pavilion |
| 2006/07/01 Chicago, IL | First Midwest Bank Amphitheatre |
| 2006/07/02 Milwaukee, WI | Marcus Amphitheater |
| 2006/07/03 Indianapolis, IN | Verizon Wireless Music Center |
| 2006/07/07 Irvine, CA | Verizon Wireless Amphitheater |
| 2006/07/08 Mountain View, CA | Shoreline Amphitheatre |
Opening Acts
Pre-show music
Posted to Spotify by Trent Reznor in 2011[2]
Atari Teenage Riot – "Revolution Action"
Liars – "Mr Your On Fire Mr"
Joy Division – "Disorder"
Primal Scream – "Rise"
The Rolling Stones – "Citadel"
Brian Eno/David Byrne – "The Jezebel Spirit"
Devo – "Gut Feeling/Slap Your Mammy"
Mogwai – "Glasgow Mega-Snake"
The Human League – "Being Boiled"
Chicks On Speed – "Yes I Do"
Dead Boys – "Sonic Reducer"
Can – "Mushroom"
Prince – "Sister"
Soft Cell – "Seedy Films"
Nitzer Ebb – "Control I'm Here"
Paul Anka – "(You're) Having My Baby"
Lighting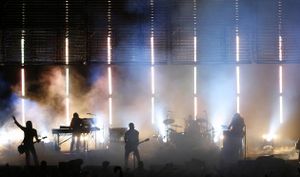 The lighting for the summer tour was a change from the winter and spring "teeth" panels. A grid of Versa RAY pixel lights arranged in a cage hung over the stage, occasionally moving down and up to display visuals, through which the band may be seen. Seven large, vertical, immobile rectangular panels were in the background akin to the three mobile ones from Fragility 2.0.
Setlist
Signature aspects of this tour, omitting the usual suspects:
"Somewhat Damaged": With the house lights still on and crew still on the stage, Reznor would suddenly appear near the cage and begin the first verse right away. This caught fans unsuspected as the band had usually begun shows with a pre-recorded track such as "Pinion" to build up the hype.
"Closer" with "The Only Time" breakdown: Reznor stood in front of the center panel whilst it glowed red, reminiscent of Fragility 2.0. This produced an illusionary silhouette effect, especially for the audience members far away from the stage; it looked like the lights were moving instead of the completely contrasted dark figure that was Trent.
"Non-Entity": The previous song hyped the crowd up for "Happiness In Slavery," but instead of havoc-wreaking machinery they heard this instead. The upside is the eerie "fading away" tentacle effect on the cage during the chorus.
"Only": Pixel-y static visuals zooming in and out due to the contrast twixt cage and panels.
"La Mer": Reznor begins by improvising on the keyboard a bit, and then lead into the beginning of "La Mer." North joins in, and right when the build up is supposed to occur, the band directly cuts to "Into The Void," a song with the same theme. The panels glow pink for "Into the Void."
"The Big Come Down": Arguably the live performance of this song is far more aggressive and energetic than the album version.
"Head Like A Hole": Energetic song always used to end the show. As the song faded out, the cage was lowered, this time with the NIN logo appearing on it.
Set format
The following is a setlist breakdown for this leg of touring, a,b or c indicate that these songs are played instead of each other, or occasionally together.
External Links